As soon as she heard that Hamas militants were launching attacks in Israel, Avital Brown sent a WhatsApp message to her friend Vivian Silver, a Canadian-born peace activist who lived near the Gaza Strip.
In less than a minute, Silver, 74, responded from her home in Kibbutz Be'eri.
"It's absolute chaos here," she wrote in Hebrew at 7:54 a.m. Saturday, according to text messages shared with NBC News. "Terrorists have infiltrated Be'eri. There is shooting and screaming."
Brown replied immediately but never heard back.
Silver is among those feared to have been killed on the spot or abducted by the militants and taken to Gaza, a place she knows well.
For nearly 50 years, Silver has worked to improve the plight of Palestinians and create a shared society between Jews and Arabs, having gone so far as to meet cancer-stricken Gaza residents at the border crossing and drive them to Jerusalem for treatment.
The silver-haired grandmother is regarded on both sides of the border as an irrepressible force, according to those who know and work with her.
"I've talked to Palestinians who feel completely devastated, like it was a family member who was taken," said Aziz Abu Sarah, a Palestinian American who operates MEJDI Tours, which offers trips to Israel led by guides from both sides of the conflict.
"I hope that the people who took her realize who she is and what a beautiful person she is," Abu Sarah added.
While Abu Sarah and other friends and family members don't know what exactly happened to Silver, the lack of news leads them to believe she is among the Israeli captives in Gaza.
"No one told us if Israeli soldiers got to her house yet," her son Yonatan Zeigen told Canada's Globe and Mail newspaper. "So there is the possibility that's she dead there, inside. But from what we gather she's in Gaza."
Zeigen told NBC News Tuesday morning that the authorities were still clearing the kibbutz of explosives and he had yet to hear any news about his mother.
Gershon Baskin, an activist who helped negotiate the release of Gilad Shalit, an Israeli soldier Hamas took captive in 2006 and set free five years later, has known Silver for more than 30 years.
"She has lots of friends in Gaza and in the Bedouin community in Israel who, I am sure, want her to be returned safely to her family," he said in a message to NBC News. "This is a great tragedy for her family and for all of us. I am sure that she will be there to help the other more than 100 hostages, and I have no doubt that her captors will have great respect for her."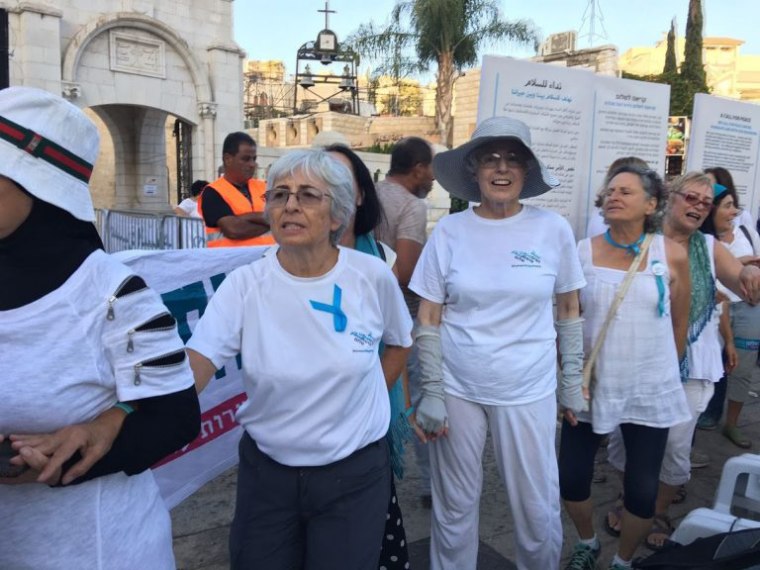 Silver, who was born and raised in Winnipeg, moved to Israel in 1974.
She first worked for a nonprofit organization devoted to social justice and gender equality. Years later, in 1998, she became the executive director of the Negev Institute for Strategies of Peace and Development, where she launched an initiative to train and empower the local Arab Bedouin community.
She and her Arab partner in the effort, Amal Elsana Alh'jooj, were awarded the 2011 Victor J. Goldberg Peace Prize from the New York-based Institute for International Education. Judges praised their "efforts to promote peace and development within society."
In early 2014, she retired, became a grandmother and found herself in a period of soul-searching.
"I had to acknowledge that after 40 years of peace activism, the Left, of which I was a proud member, had not succeeded in achieving its goal of ending the Israeli-Palestinian conflict," she wrote in a 2018 blog post. "I decided that I would no longer do more of the same thing, that I must find another way."
She became a leader of Women Wage Peace, a grassroots organization made up of thousands of Arab and Jewish women seeking a resolution to the Israeli-Palestinian conflict.
"I spent much time in Gaza until the outbreak of the second intifada. We continued working with organizations in the West Bank," Silver wrote in the post. "That's why it especially infuriates me when people claim: 'We have no partner on the other side!' I personally know so many Palestinians who yearn for peace no less than we do."
Back home, longtime friends in Canada see Silver as a paragon of activism and moral clarity.
"She is somebody who has always, always worked for what she believes in, and she believes in peace and a shared society in Israel," said Lynne Mitchell, who met Silver at a B'nai B'rith Youth Organization event when they were 15. "She went there for that purpose when she was very young and has remained true to that her whole life."
Silver is a widow with two adult sons. Her American husband died four years ago, friends said.
Silver's activism went beyond leading marches and rallies. 
In addition to ferrying Gaza residents to Israeli hospitals for cancer treatments, her friends said, she also traveled to the border to make sure Arab laborers who worked at her kibbutz got paid during periods when they were barred from entering Israel.
Others who work to promote peace in Israel see Silver as a "titan in our space," said John Lyndon, the executive director of the Alliance for Middle East Peace, a network of more than 160 Israeli-Palestinian organizations engaged in grassroots peace building.
"Its easy to be left-wing and pro-peace if you live in north Tel Aviv. She lives at the Gaza border, right in the most difficult place for Israelis, where you can't escape the reality of the conflict," he said. "And it's not just about where she lives; it's what she does every hour of every day. She's walking the walk."
An unknown number of Israeli soldiers and civilians were taken hostage by Hamas fighters who poured into Israel by land, sea and air Saturday to launch a surprise attack staggering in scope. More than 100 people have been discovered dead at Silver's kibbutz, according to the Israeli volunteer rescue organization ZAKA.
On Monday, a spokesperson for the military wing of Hamas said militants will kill one civilian hostage every time Israel targets civilians in their homes in Gaza "without warning."
Three days before the Hamas assault, Silver led a rally in Jerusalem where thousands of women — Jews and Arabs, secular and religious — marched shoulder to shoulder. Dignitaries from Israel, Finland and Ireland also attended, according to Women Wage Peace.
Brown, the woman who received the text from Silver as the attack was unfolding, said she gave her fellow Women Wage Peace member a warm embrace before they bade each other farewell.
Silver told her to come visit her kibbutz. It's so quiet there, she said, according to Brown, who lives in Tel Aviv.
"I'm glad that I hugged her on Wednesday," Brown said. "And I'm definitely hoping that it's not the last time I get to hug her."