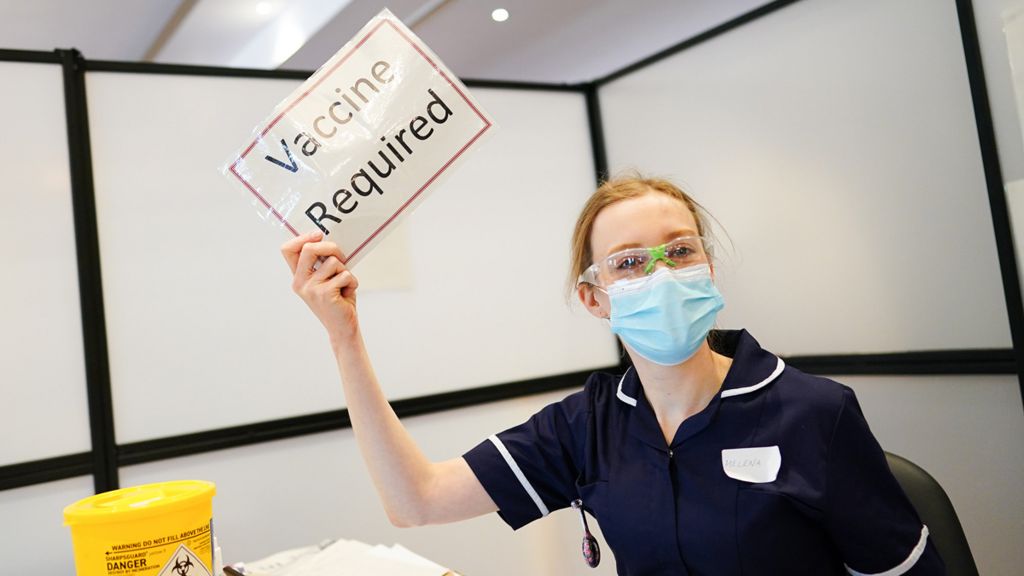 Everyone aged 50 and over in the UK will be offered another Covid booster vaccine this autumn.
The programme will also include frontline health and care workers, as well as younger people who are at higher risk from the disease.
Who will get an autumn booster?
Another Covid vaccine dose will be offered to:
adults aged 50 and over
people aged five to 49 with health conditions which mean they're at higher risk – including pregnant women
care home staff
frontline health and social care workers
unpaid carers
household contacts of people with weakened immune systems
The rollout will begin in early autumn, a year after the first Covid boosters were given.
Originally only healthy people aged over 65 were expected to be offered another jab, but the programme has been expanded in response to the spread of the Omicron variant.
Who was offered the Spring booster?
adults aged 75 and over
residents in care homes for older adults
those aged 12 and over with weakened immune systems
How many people have been vaccinated?
At the end of May, nearly three million people in England were still completely unvaccinated, leaving them at greater risk of becoming hospitalised or dying if they become seriously ill with Covid.
How long after Covid can I have a booster?
Under-18s who aren't at higher risk from Covid should wait 12 weeks.
The vaccines don't infect you with Covid and can't cause positive results on a Covid test.
Which children can get jabbed?
all 12 to 15-year-olds are offered two doses of Pfizer
all 16 and 17-year-olds can have a booster, three months after their second jab
12 to 15-year-olds in an at-risk group, or who live with someone with a weakened immune system, can have a booster
How do I book my Covid vaccine?
You can book jabs online, or go to a walk-in clinic, although not all centres offer jabs to under-12s, and some have closed since the initial vaccination push.
You should leave eight weeks between your first and second doses, and wait a further 12 weeks before a booster.
Booking isn't yet open for the autumn booster programme.
What vaccine will I get?
Drug companies have been updating their vaccines to tackle newer Covid variants, but it's not yet clear which will be used for the autumn boosters.
First and second doses are either AstraZeneca or (for under-40s) Pfizer or Moderna.
So far, boosters have been a single dose of either Pfizer or Moderna – regardless of which vaccine you received previously.
However, if you cannot have Pfizer or Moderna for medical reasons, you can have a booster dose of AstraZeneca.
Two other vaccines have also been approved for use in the UK – Janssen and Novavax, but these haven't been given to UK patients.
What are the side effects?
They are part of the body's normal immune response to vaccines and tend to resolve within a day or two.
You should discuss any existing serious allergies with your healthcare professional before being vaccinated.